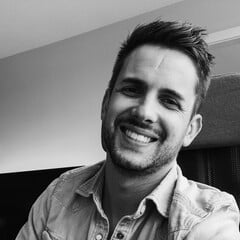 David Baylis
Tech Marketing Consultant at Epic Games
Vancouver B.C, Canada
About
I'm a 3D artist living in Vancouver B.C Canada (Originally from Lille, France) and work at Epic Games as a Consultant producing demos, tips&tricks tutorials and webinars.
I specialize in automotive real-time rendering using Unreal Engine.
I have always been a car enthusiast, and love exploring new ways to deliver photorealistic renderings. There is a lot of history behind each car, and that is what I try to portray in my artworks.
Feel free to reach out on social media or by email !
You can book a Zoom meeting if you have any further questions : calendly.com/davidbaylisdesign
Skills
Architectural Visualization
Unreal Engine
Datasmith
Corona
Vray
Keyshot
Rendering
VR
Real-Time
Environment
3D Visualization
Software proficiency

3ds Max
Unreal Engine

Mixer

Premiere

Megascans

Photoshop

After Effects

Substance 3D Painter

Corona Renderer

Forest Pack

Keyshot

World Machine

Marmoset Toolbag

Marvelous Designer

World Creator

DAZ Studio

Unity

RizomUV
Experience
- Tips&Tricks videos

- Webinars

- Demo scene creations and rendering

- Audi A5 Configurator sample project Look Dev (Available on the Marketplace)

- Unreal Engine Enterprise Consultant

- AR/VR development (Vuforia, Structure Sensor, Unity, Unreal Engine)

- Architectural Visualization / Product Design

- Interactive experiences using Unreal Engine.

- Post Production : After Effects/ Premiere Pro / Photoshop

Real-time architectural visualization with Unreal Engine 4.

- Modeling assets in 3DS Max / Unwrapping / Exporting pipeline to UE4.

- Lighting, shaders and texturing using third party softwares (Designer, Quixel)

- Good understanding of lightmaps and baked lighting inside UE4

- Performance profiling and LOD system management to deliver steady framerate for VR Experience.

- Basic workflow with Sequencer

- Basic blueprint and UI design integration for VR Integration using the HTC Vive.